Podcast: Play in new window | Download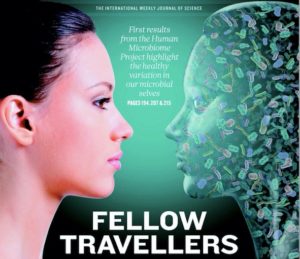 In this episode of The Health Edge Mark and John discuss the current research linking the microbiome to human health. They review why we have fewer and less diverse "Fellow Travelers" and how we can begin to think about restoring this critical ecosystem legacy.
Cell Host Microbe 2017 p84-Dysbiosis and disease
Microbiome and neurotransmitters
Masters of Host Development and Physiology
Sonnenburg-Fiber and Microbiota health Cell
Personalized Nutrition Glycemic Response Cell 2015
Fermented foods, microbiota and mental health
Comparison with ancestral diets suggests dense acellular carbohydrates promote an inflammatory microbiota, and may be the primary dietary cause of leptin resistance and obesity.